Easy Translator 14 with Text-to-Speech
Language translation software for your daily multilingual needs, supporting 91 languages
Easy Translator for macOS employs the power of Internet machine language translation engines, and enables you to easily translate Web contents, letters, chat, and emails between major International languages.
The new version 14 supports translation between 91 languages, and with text-to-speech (TTS) support for 46 languages, which makes it an ideal language learning app as well. For the Chinese language, Easy Translator now supports two spoken dialects: Mandarin and Cantonese.
This translation software can also convert text to MP3 audio files so that you can listen to the audio in your favorite music player.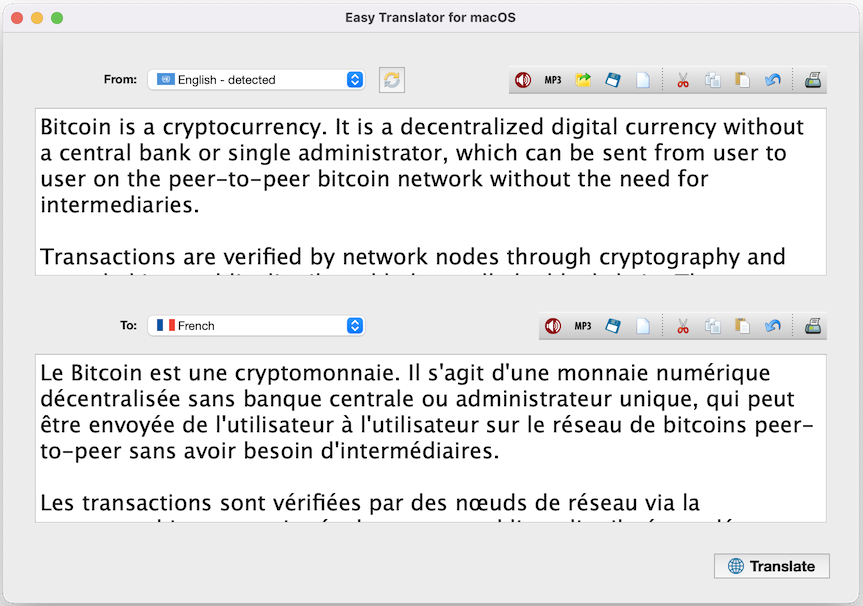 Easy Translator supports translations between the following 91 languages.
Languages marked with

have TTS feature enabled.
English
Latin
Dutch
French
German
Italian
Spanish
Catalan
Portuguese
Greek
Russian
Finnish
Chinese (Traditional)
Japanese
Korean
Arabic
Chinese (Simplified)
Croatian
Czech
Danish
Latvian
Norwegian
Polish
Romanian
Turkish
Serbian
Slovak
Slovenian
Swedish
Hungarian
Estonian
Maltese
Albanian
Ukrainian
Icelandic
Vietnamese
Indonesian
Javanese
Sundanese
Thai
Filipino
Cebuano
Zulu
Afrikaans
Welsh
Belarusian
Bulgarian
Galician
Lithuanian
Irish
Macedonian
Malay
Persian
Swahili
Hausa
Hebrew
Yiddish
Haitian Creole
Armenian
Azerbaijani
Basque
Georgian
Urdu
Punjabi
Bengali
Telugu
Hindi
Tamil
Gujarati
Kannada
Marathi
Malayalam
Esperanto
Hmong
Burmese
Lao
Khmer
Bosnian
Igbo
Yoruba
Maori
Nepali
Somali
Mongolian
Sinhala
Tajik
Uzbek
Kazakh
Sesotho
Malagasy
Chichewa
Supported Platforms:

macOS 10.12 ~ 10.15 (Catalina)

Windows 10/8/7/Vista


Language Translation Software for Mac OS X
---
🇺🇸 🇫🇷 🇮🇹 🇬🇷 🇪🇸 🇵🇹 🇭🇺
Mac Translation Software, French Translation Software for Mac OS X, Greek Language Translator for Mac, Korean Chinese Japanese language translation software for Mac, German Italian translation software for Mac, Russian Portuguese Spanish language translation progam for Mac OS X, Persian Farsi Arabic Hebrew translation software for Apple Macintosh. Hindi Polish Dutch Portuguese translator for Mac. Foreign language translation software for Mac OS X.